Description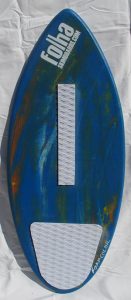 Large: 20€
Height x Width Top x Width Bottom: 40 cm x 35 cm x 19cm
Small: 15€
Height x Width Top x Width Bottom: 30 cm x 31cm x 17cm
3M self adhesive footpad sheet with diamond groove for ultimate traction and comfort. Specially used on Windsurfand Paddle boards. Available in either black or white in 6mm thickness but higher in the middle for better placement of the foot.
Best for intermediate and advanced Skimboards made by www.folhaskimboards.com
INFOS
For placing this product you just purchase, follow these steps:
– Make sure the surface is completely clean and dry.
– Place the Deck in the desired position.
– Once you figure out how you want to position your Deck, grab a pencil and trace around the Deck.
– Sand the area where the traction Deck will be located.
– If the finish of the board is "Textured" just sand the area and after clean with water, let it dry well before placing it. Never use alcohol or acetone.
– Peel of the adhesive paper on the Deck.
– Press the Deck onto the board and puch the pad down with your hands.
– Put something heave on the Deck and wait for 12 to 24 hours.
Note:
– If some of the parts of the Bar are peeled, use SUPER 3 cyanoacrylate glue.
GOOD WAVES